Zero Liquid Discharge is an engineering approach to removing all liquid waste from a system. The treatment is utilized to maximize the recovery of water and reduce waste. ZLD systems incorporated advanced wastewater/desalination treatment technologies to purify and recycle all of the wastewater produced according to government discharge norms.
" Yash Enviro had supplied, installed and commissioned cost-effective systems to recycle wastewater and achieve ZLDs in various industrial sectors"
ZLD Plant Consists of pretreatment include RO Plant, UF Plant and Evaporator like ATFD (Agitated Thin-film Dryer), MEE (Multi-effect Evaporator), Wastewater Evaporator, Pusher Centrifuge, Basket Centrifuge, etc.
Scrubbers:
The wet scrubbers are used to remove particulate matter, fume, and especially acid gases from industrial processes. scrubbers are air pollution control equipment that use water or other liquid solutions to scrub particulate matter and dangerous feasts from the gas stream.
Wet scrubber:
Wet scrubbers eliminate particulate matter from industrial exhaust gas streams by capturing the particles in fine liquid mist droplets or in layers of scrubbing liquid.
These Wet scrubbers are designed and manufactured with the aid of the finest quality material and sophisticated technologies. Piecemeal from this, the offered wet Scrubber is tested on varied parameters by our quality controls assuring its flawlessness. This wet scrubber is used to remove gases and particulates which are produced with flames. Moreover, our team keeps regular contact with the clients for knowing their exact requirements and demands in a better way. Also, our manufacturing and product process is exactly in compliance with multiple governing principles.
Communicate with us to place your order for the products of your choice. We are looking for queries from different parts of India.
Venturi scrubber
We are leading Venturi scrubber manufacturers. With the aid of our capable team, we are able to manufacture a wide range of Venturi scrubbers for clients.
A venturi scrubber consists of a converging section, a throat i.e the narrowest part of the venture tube and a diffuser. The dust/gas mix flows through the venturi tube and reaches top speed in the throat section. Thereafter, the mixture passes into the diffuser where the speed drops again. The liquid is added to the gas flow either in the throat section or before it. Intensive mixing takes place between the gas and the liquid in the throat section of the venture tube. Due to the high speed the gas and liquid, water is released in fine water droplets.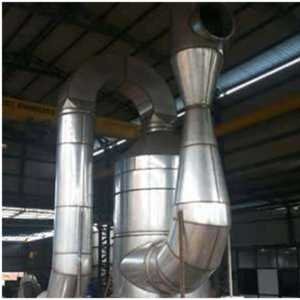 The venturi scrubber itself has a low volume. The installation is primarily determined by the drop separation, which can be numerous times larger than the scrubber. Venturi scrubbers can be used to remove small snips from a gas sluice. Still, they can also be used for larger particles, though energy use is fairly high in analogous cases.
Yash Enviro Tech India Pvt Ltd, are effective at removing particulate from the exhaust
with high effectiveness. Venturi scrubbers have several advantages compared to other dust collection outfits. Venturi scrubbers are suitable to handle gas aqueducts that contain moisture are high temperatures, the overall size of the outfit is generally minor, and they have the eventuality to remove pollutants and contaminated gas at the same time as the particulate matter.
Advantages
High removal yield
No mechanical components
Gaseous components are absorbed
No ventilator required
Disadvantages
Large pressure drops
Signs of erosion when scrubbing abrasive mediums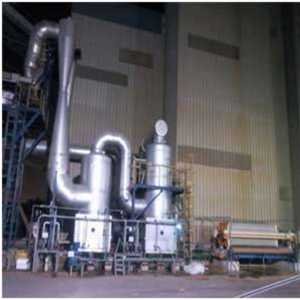 Packed Bed scrubber
We are at Yash Enviro Tech India Pvt Ltd. offering a wide array of packed bed scrubbers.
These packed palace scrubbers are designed with the aid of stylish quality material and maintained technologies.
Packed bed scrubbers contact a liquid, typically water, with gas to transfer a component of the gas into the liquid. Typically, gas flows upward through the packed bed, and liquid flows downward. The liquid contacts the gas, and the contact area is enhanced by the use of packing, which disperses the liquid and the gas, providing more contact area to transfer the targeted component into the liquid.
Depending on the scrubbing liquid used and the gas contaminants involved, the liquid will absorb or react with contaminants in the airstream, efficiently removing them from your air. Alkaline, acidic, or oxidizing scrubbing agents are often used in the recirculated scrubbing liquid in order to achieve the desired outlet emissions.
Advantages:
1. Relatively low-pressure drop;
2. Fiberglass-reinforced plastic (FRP) construction permits operation in highly corrosive
atmospheres;
3. Capable of achieving relatively high mass-transfer efficiencies;
4. The height and/or type of packing can be changed to improve mass transfer without
purchasing new equipment;
5. Relatively low capital cost;
6. Relatively small space requirements; and
Disadvantages:
1. May create water (or liquid) disposal problems;
2. Waste products collected wet.